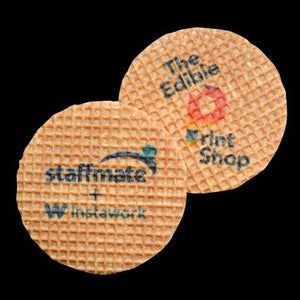 Create a memorable tea or coffee bar with these custom printed stroopwafels. This caramel filled cookie is best enjoyed after it has been warmed over a hot beverage. Create an interactive coffee bar experience like no other.
Just heat and eat!
Each 3.5" stroopwafel can be branded with text, certain graphics or logos.
Pricing shown is for 12 pcs per order.
Definitely send us a message if you have specific questions that we did not cover.
To customize: Upon completion of your order please email your order number and logo to theedibleprintshop@gmail.com
Due to customization, Most items are ready to ship within 5 business days.
This product offers an excellent way to provide a personalized touch to any tea or coffee display and create a unique customer experience.